Now, it is only a matter of time…
Since the political institutions in the European Union (EU) reached a provisional agreement in June 2021, it is set in stone that the Regulation on European health technology assessments (HTA) will be implemented starting in 2025. Meanwhile, the EU Member States are getting ready to prepare Joint Clinical Assessments (JCA) of health technologies thenceforth.
In order to further advance the procedural and methodological basis for these joint assessments, the EU signed a two-year contract with the EUnetHTA 21 consortium. The work of EUnetHTA 21 will explicitly build on the methods and deliverables already implemented in the previous EUnetHTA Joint Actions and will focus on establishing standards for the upcoming EU HTA system defined by the HTA Regulation.
EUnetHTA 21 has already conducted the first open call for Joint Scientific Consultations (JSC) and announced the preparation of 1‑2 JCAs for medicinal products.
Are you also poised to enter the future of EU HTA?
Relying on our many years of hands-on experience with scientific consultations and joint assessments we will provide you with in-depth knowledge and expedient guidance for your successful path through your EU HTA process. With AMS you have not only a service provider but also a partner at your side who will maximize your results for EU HTA.
For more detailed information on the development and the current status of EU HTA and our involvement, please select your topic of interest below or contact us for specific questions:
History of EU HTA
The diverse national processes and requirements with regard to HTA across Europe have led to partly divergent evaluations of a given medicinal product between different EU Member States. Already at the stage of planning clinical studies, sponsors face the challenge to design studies that will ultimately satisfy the requirements of the regulatory authority as well as those of the various national HTA agencies and bodies.
In 2006, the European Commission, supported by EUnetHTA has started an EU-wide cooperation to foster an Early Dialogue between pharmaceutical companies, regulatory authorities, and HTA bodies. The main objective was to generate scientific advice for the further clinical development regarding requirements for both marketing authorisation procedure and HTA process ensuring successful market access for the new medicinal product (e.g. study design, choice of comparators, outcome parameters, and economic aspects). Participants of the Early Dialogue were, besides EUnetHTA Early Dialogue Secretariat, representatives of HTA bodies, the European Medicines Agency (EMA) and other stakeholders like patients, consumers and health professionals.
The EUnetHTA-coordinated assessments for medicinal products have prepared the ground for a European HTA process to save resources and overcome nationally divergent assessment outcomes. The methodological framework was the HTA Core Model® to produce a JCA, the Rapid Relative Effectiveness Assessment (REA), for national uptake across the EU Member States. The European Commission proposed a regulation on HTA based on the experiences gained with the EUnetHTA assessments. Meanwhile the ordinary legislative procedure for this EU Regulation on HTA has been completed and thus, its implementation has started in January 2022 and will continue until its application in January 2025.
The EU Regulation on HTA
On 22 December 2021, Regulation (EU) 2021/2282 of 15 December 2021 on health technology assessment and amending Directive 2011/24/EU was published in the Official Journal of the European Union. It establishes a permanent framework for joint work and shall apply from 12 January 2025.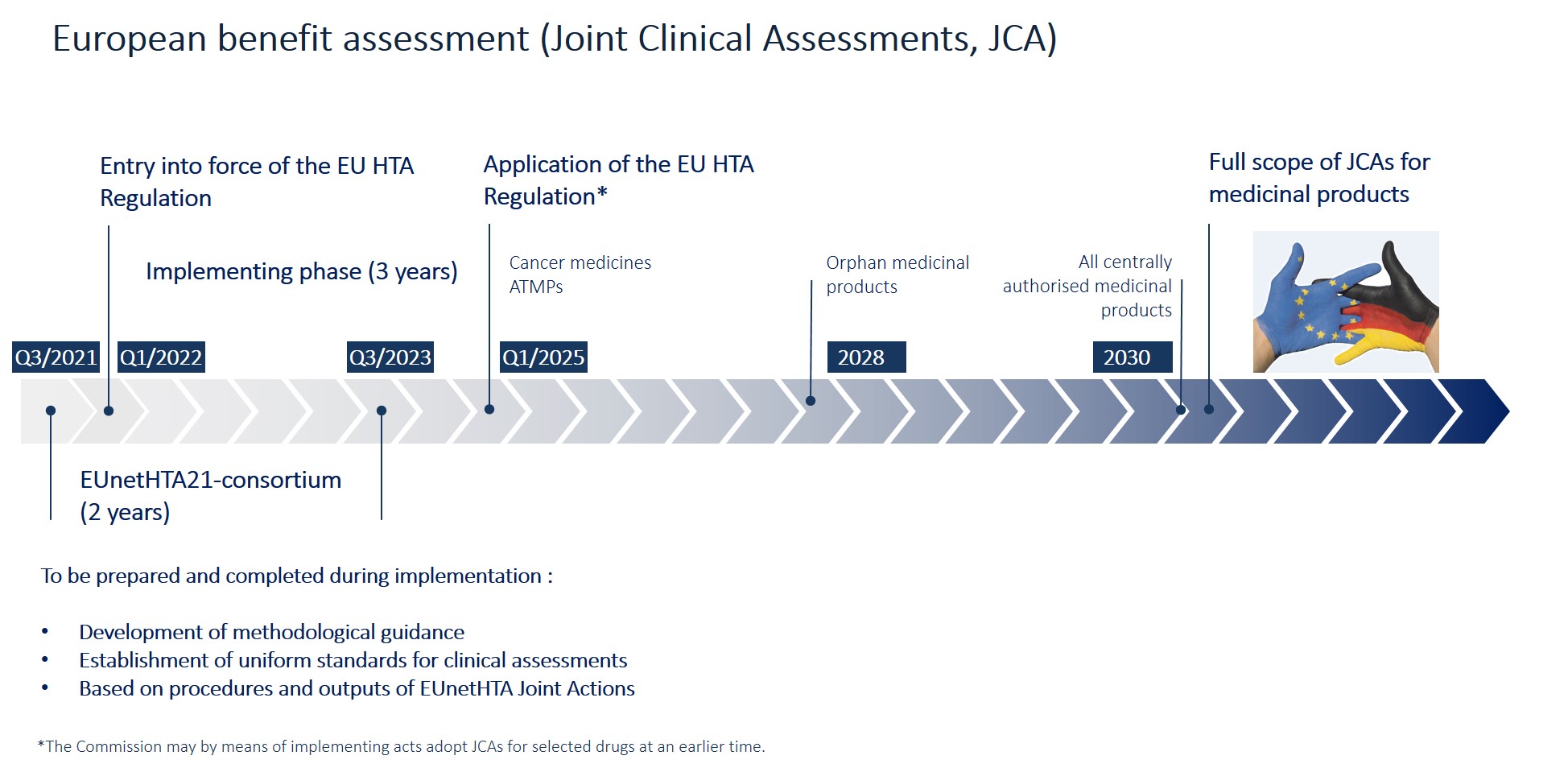 This Regulation establishes:
- Procedures for the Joint Clinical Assessment (JCA) of health technologies – HTA at Union level.
- Procedures for Joint Scientific Consultations (JSC) with health technology developers on their development plans for a given health technology.
JCA will be obligatory; for medicinal products it will apply as follows:
- from January 2025 for new cancer medicines and advanced therapy medicinal products (ATMP),
- from January 2028 for new orphan medicinal products (OMP),
- from January 2030 for all new centrally authorised medicinal products.
JSC will be voluntary:
- Health technology developers may request a JSC. The request shall be made to the Coordination Group. Request periods remain to be published.
- The clinical studies and clinical investigations of the health technology have to be in the planning stage.
- The Coordination Group shall select the health technologies that are to be subject to JSCs (there is no legal claim to JSC).
Detailed procedural rules for JSC and JCA will be adopted.
The EUnetHTA 21 consortium
The procedural rules for JSC and JCA are being produced by the EUnetHTA 21 consortium through a service contract with the European Health and Digital Executive Agency (HaDEA) acting on behalf of the European Commission.
On 17 September 2021, the HaDEA signed the Service Contract for the Provision of Joint Health Technology Assessment (HTA) Work Supporting the Continuation of EU Cooperation on HTA. The contract will run for 24 months, until 16 September 2023.
Participating in the EUnetHTA 21 programme is the perfect opportunity to contribute to the structure and procedures of the upcoming EU HTA system, to connect with the relevant European stakeholders and to optimise the structure and the processes of your organisation for the European HTA. Therefore, prepare for the upcoming changes in the European HTA landscape and take advantage of our extensive experience with the EUnetHTA and EMA processes.
Our involvement - Your benefit
- We have been dialogue partner of EUnetHTA for many years and will continue our cooperation as stakeholder of EUnetHTA 21.
- We carefully observe the activities of EUnetHTA 21 and review its outputs for building up the new EU HTA system: procedural rules and methodological guidance.
- We are your highly competent and long-standing partner in both, the European (within the EUnetHTA framework) and the German HTA process (AMNOG). AMS is looking forward to continue its successful cooperation with you in the new HTA framework.
Our Services around EU HTA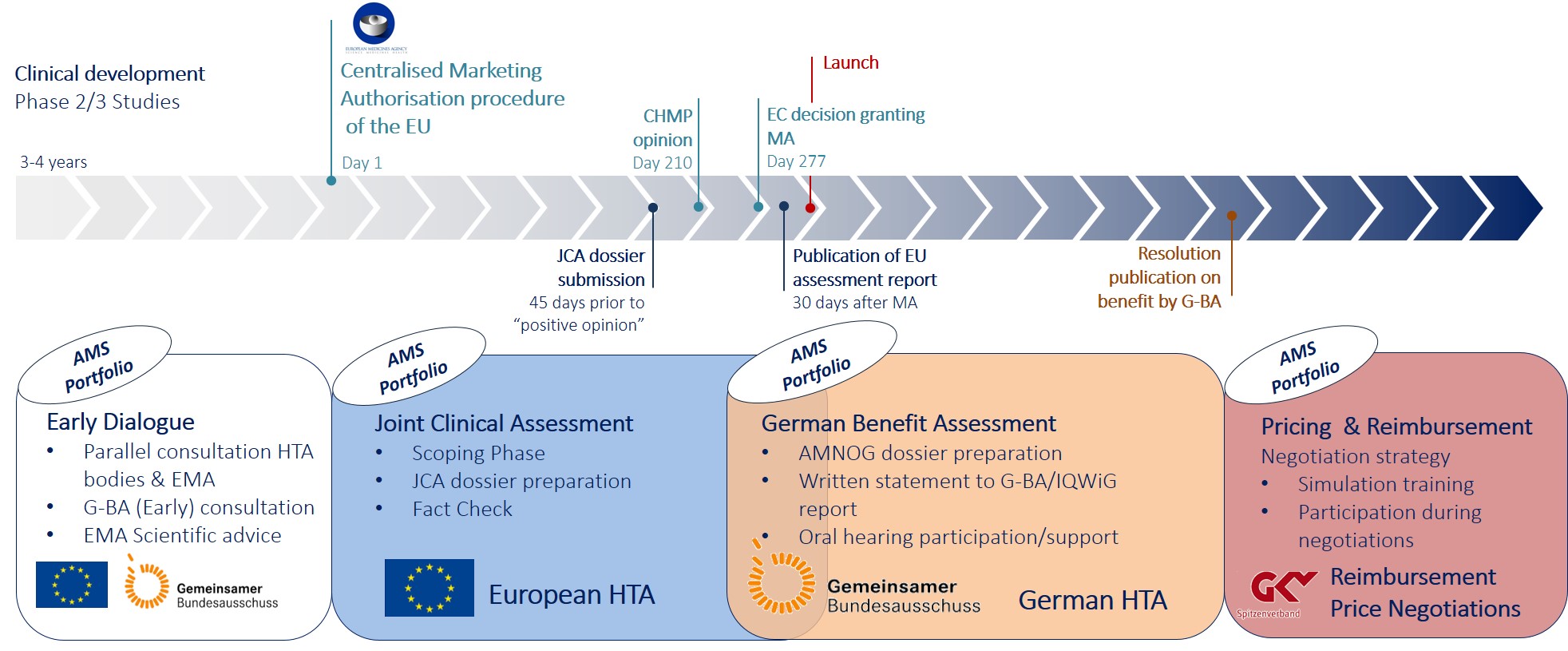 Early Dialogue (ED)
- Identification and wording of questions for the EMA and the HTA bodies and agencies.
- Preparation of the briefing documents for the EMA-EUnetHTA Joint Scientific Advice (parallel consultation)
- Evidence review and strategic consulting.
Further information on Parallel Consultation
EU Health Technology Assessment (EU HTA)
- Strategy-compliant preparation of the submission file and support through the European process
- Systematic searches in literature databases and study registers
- Analysis of epidemiological data
- Direct and indirect comparisons or (network) meta-analyses
- Broad spectrum of statistical methods i.e. frequentist as well as Bayesian methods
Further information on European HTA
Further services
- Presentations, webinars and workshops on EU HTA
- Parallel conduction of JCA and AMNOG dossier during EUnetHTA 21
- Strategic consultation regarding evidence generation for EU HTA (e.g. study design, statistical methods)
Early Dialogue (ED)
- Identification and wording of questions for the EMA and the HTA bodies and agencies.
- Preparation of the briefing documents for the EMA-EUnetHTA Joint Scientific Advice (parallel consultation)
- Evidence review and strategic consulting.
Further information on Parallel Consultation
Publications
Towards compatibility of EUnetHTA JCA methodology and German HTA: a systematic comparison and recommendations from an industry perspective: https://link.springer.com/content/pdf/10.1007/s10198-021-01400-2.pdf
---
We are always here for you
Would you like to receive more information about our services and expertise, to contact the team regarding a specific enquiry or to receive a non-binding offer?
We look forward to hearing from you!