European HTA
Since 2015, AMS has actively shaped the EU HTA process through regular contributions at conferences, participation in EUnetHTA events, and as a member of EUCOPE. Our practical experience and profound expertise gained during the development and compilation of rapid REA Submission Files during the EUnetHTA Joint Action 3 will ensure that you are well-prepared and guided through the EU HTA process.
Our services
Capability matching
To ensure an efficient preparation of your relevant functions (Clinical Development, Regulatory Affairs, Market Access) for the EU HTA process, we will work together to develop an individualized playbook that can be further refined through dry runs.
Training
We are happy to share our expertise through individually tailored workshops, presentations, and publications, equipping you for the EU HTA process.
Preparation of early consultations
We support you in preparing briefing documents for European consultations (JSC), parallel consultations (EMA/HTA bodies), or national consultations, in order to anticipate the requirements of individual EU Member States in advance.
Anticipation of possible assessment scopes
Considering different options for the assessment scope, we work together with you to create the corresponding value story for your product.
Comprehensive understanding of European HTA requirements
We are here to offer guidance on evidence generation (such as study design, endpoints, subgroup or sensitivity analyses).
Scientific, strategic and methodological advice
Together with you, we develop the data strategy and leverage visualization techniques to support and accelerate decision-making processes.
Development of a complete dossier
We support you in deriving and presenting the patient numbers for Module 3 of the benefit dossier.
Parallel development of EU HTA and AMNOG dossiers
With our experience in parallel procedures, we can also provide you with planning support throughout the national and EU HTA processes.
Transition from national to EU HTA: When will what be switched?
From January 2025, the Regulation on the European Health Technology Assessment will be implemented. The clinical domains of an HTA of newly authorised medicinal products will thereafter be prepared at European rather than national level: the EU HTA. For various medicinal products, the benefit assessment at EU level JCA will become mandatory at different times. From 2030, JCAs will finally be mandatory for all medicines.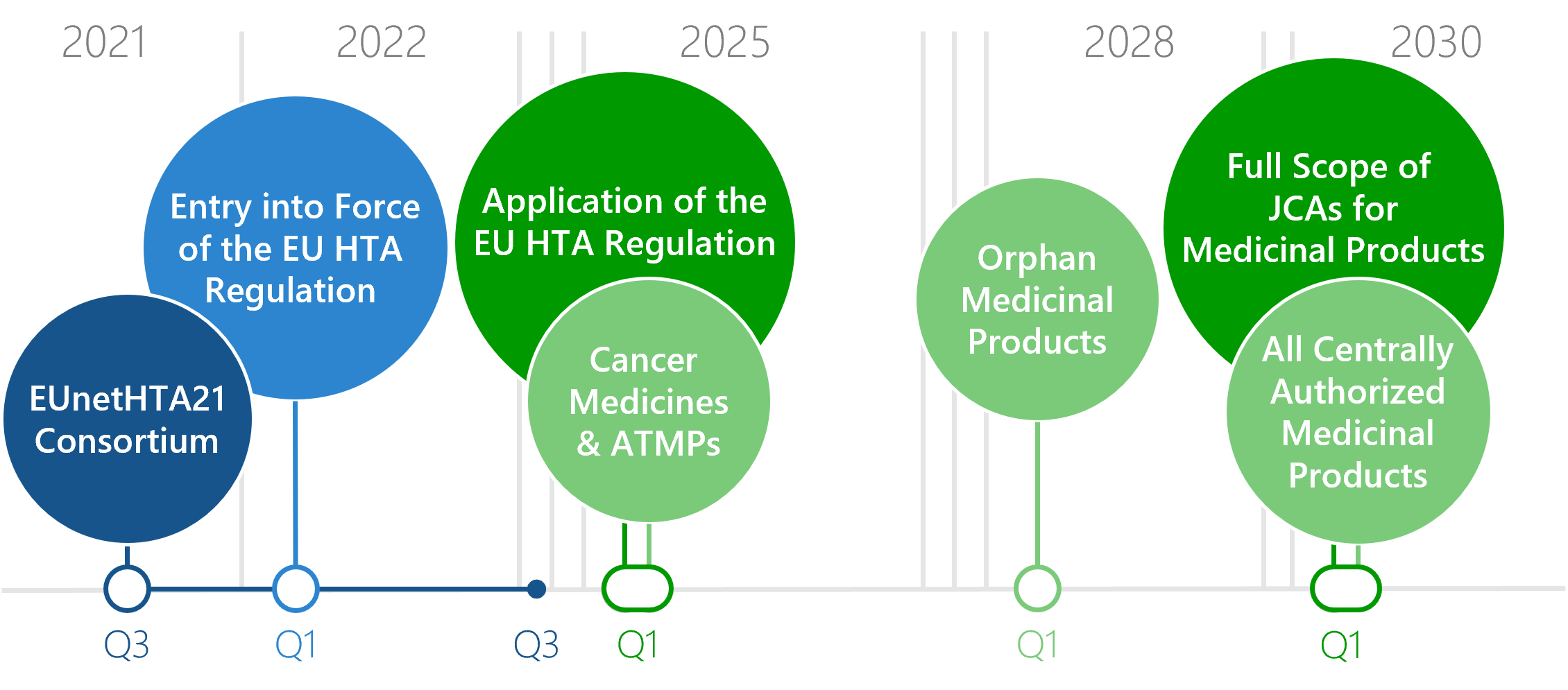 Download: Flyer Timelines Entry into force of the EU HTA
Process of a JCA in the European benefit assessment
The JCA process is overseen by the Member State HTA Coordination Group. The JCA dossier is required 45 days prior to the CHMP Opinion and is published no later than 30 days after the marketing authorisation of the medicinal product by the EMA. A scoping process is carried out before the dossier is submitted. The results of this process form the research question and the scope of assessment for the dossier. The scoping process aims to define the PICOs (Population, Intervention, Comparator, Outcomes), which have the task of setting the framework for the evaluation and the data requirements for the manufacturer.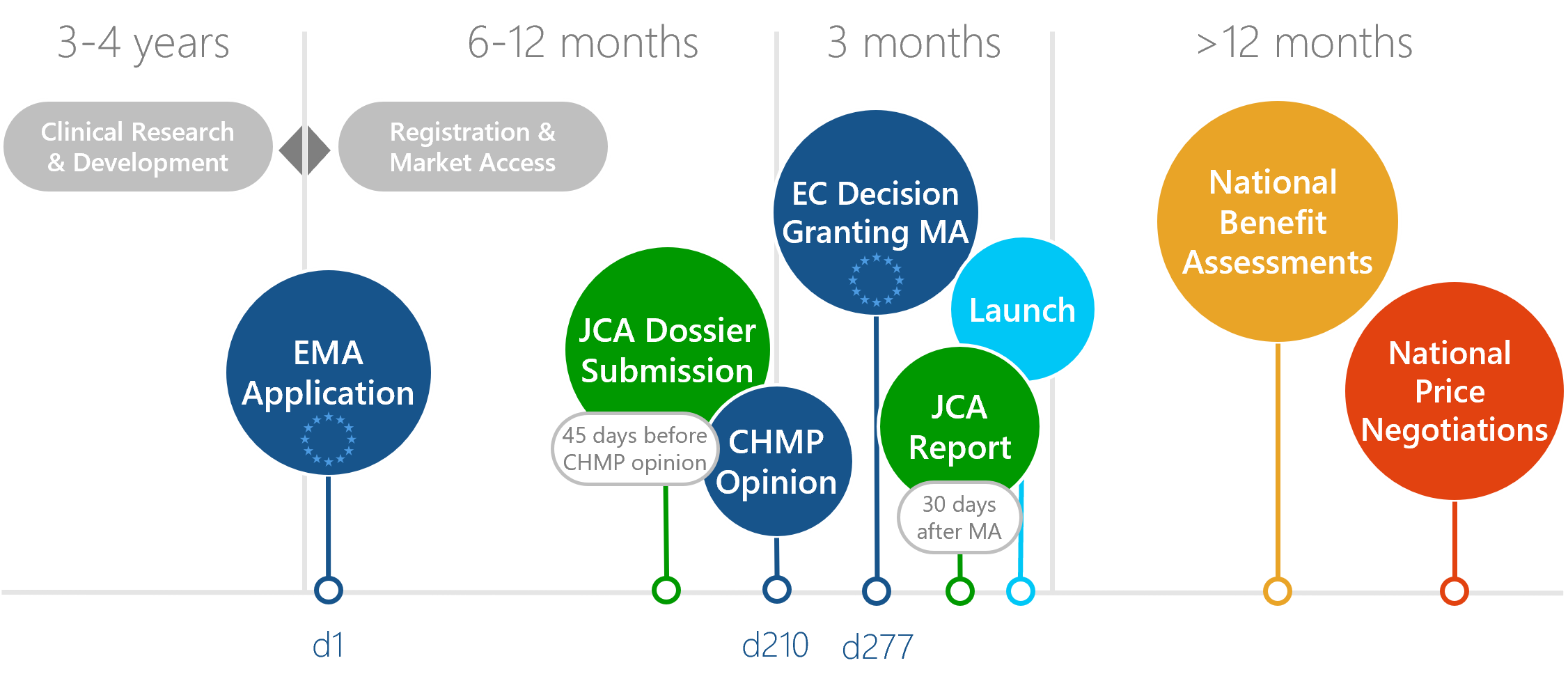 Download: Flyer European benefit assessments
Original articles in peer-reviewed journals
Schweitzer MK, Dold MN, Genet A, Gossens K, Klein-Hessling T, Löffler N, Rabel M, Rasch A, Schmelcher J, Wolfram N, Werner S (2023). Lessons learned from German HTA Dossier requirements for the future European HTA system. Submitted to Eur J Health Econ
Schweitzer MK, Dold MN, Genet A, Gossens K, Klein-Hessling T, Löffler N, Rabel M, Rasch A, Schmelcher J, Werner S, Wolfram N (2023). Auswirkungen der neuen Dossieranforderungen auf Nutzendossiers und Bewertungen durch das IQWiG des G-BA. Monitor Versorgungsforschung 03/23, p26–30, doi: http://doi.org/10.24945/MVF.03.23.1866-0533.2500
Genet A, Bogner K, Goertz R, Böhme S, Leverkus F (2023). Safety analysis of new medications in clinical trials: A simulation study to assess the differences between cause-specific and subdistribution frameworks in the presence of competing events. Research Square. doi: 21203/rs.3.rs-2475247/v1
Kisser A, Knieriemen J, Fasan A, Eberle K, Hogger S, Werner S, Taube T, Rasch A (2022). Towards compatibility of EUnetHTA JCA methodology and German HTA: a systematic comparison and recommendations from an industry perspective. Eur J Health Econ 23(5):863-878, doi: 1007/s10198-021-01400-2
Wüstner S, Hogger S, Gartner-Freyer D, Lebioda A, Schley K, Leverkus F (2022). Clinical Evidence Informing Treatment Guidelines on Repurposed Drugs for Hospitalized Patients During the Early COVID-19 Pandemic: Corticosteroids, Anticoagulants, (Hydroxy)chloroquine. Front Public Health 18;10:804404, doi: 3389/fpubh.2022.804404
Schomaker M, Hogger S, Johnson LF, Hoffmann CJ, Bärnighausen T, Heumann C (2015). Simultaneous Treatment of Missing Data and Measurement Error in HIV Research Using Multiple Overimputation. Epidemiology. 26(5):628-36. doi: 1097/EDE.0000000000000334
Further publications (Workshops/Webinars/Presentations/Conference abstracts)