Um Kooperationen auszuzeichnen und Partner entsprechend zu honorieren, verleiht AbbVie Global jährlich den Preis 'Supplier of the Year'. Kriterien, um für den Preis nominiert zu werden, sind neben einer hervorragenden Arbeit und Zuverlässigkeit auch Flexibilität, Engagement und Einsatz für das Projekt im Sinne der Kulturattribute von AbbVie.
Für das Jahr 2015 wurde kürzlich die AMS Advanced Medical Services GmbH ausgezeichnet. AMS hat in Zusammenarbeit mit dem Market Access Team von AbbVie Deutschland GmbH & Co. KG die Erstellung und Abgabe eines AMNOG-Dossiers unterstützt. Diese Dossiers sind vom Gesetzgeber für neue Arzneimittel, die nach 2011 in Deutschland eingeführt werden, gefordert und müssen dem Gemeinsamen Bundesausschuss (G-BA) zum Zeitpunkt des erstmaligen Inverkehrbringens vorliegen. Der G-BA startet dann mit Unterstützung des Instituts für Qualität und Wirtschaftlichkeit im Gesundheitswesen (IQWiG) das frühe Nutzenbewertungsverfahren, um einen Zusatznutzen für das neue Arzneimittel festzustellen.
AMS war für AbbVie ein verlässlicher und erfahrener Partner in diesem Prozess. Am 23. Juni 2016 hat AbbVie dem Team von AMS daher den Preis 'Supplier of the Year 2015' überreicht. 'Es ist wirklich fantastisch für uns und unsere Mitarbeiter, eine solche Anerkennung zu erhalten, und es bestätigt unseren Einsatz für unsere Kunden', so Dr. Doris Böhm, Direktorin Biostatistics & Medical Science bei AMS .
---
TRIUMPH AWARD OVERVIEW
AbbVie's business and reputation relies heavily on the effort and commitment of our suppliers. The AbbVie Triumph Award Program recognizes exemplary supplier performance and acknowledges AbbVie's supplier contributions to our success and ability to serve patients. The Triumph Award highlights top performers and their contributions to AbbVie's strategic vision.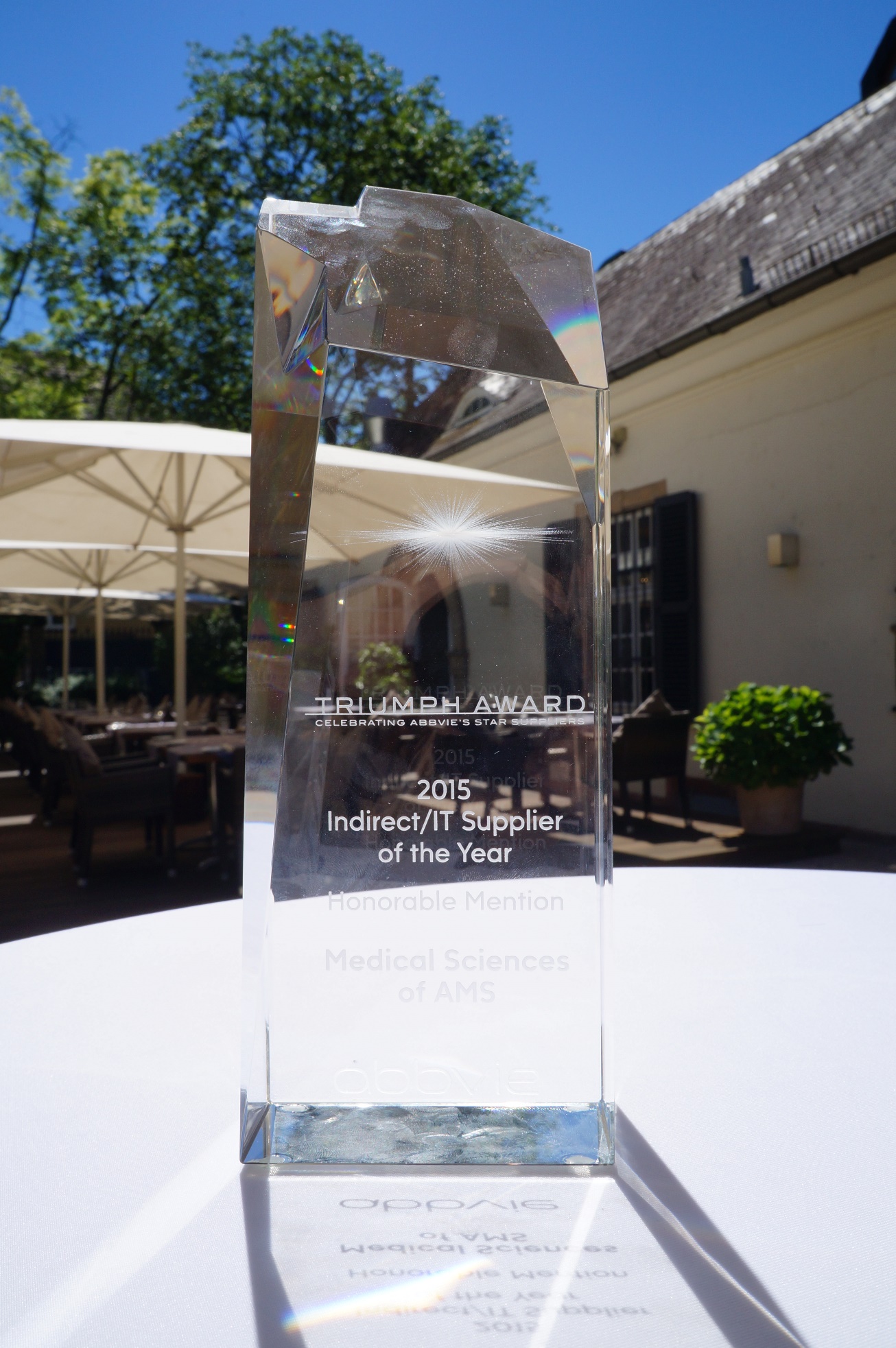 Quelle Foto:
AbbVie Deutschland GmbH & Co. KG